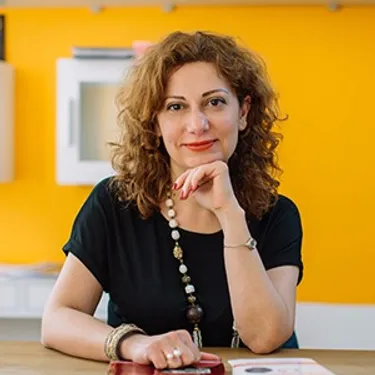 Founder and Managing Partner at Cascade People & Business
Founder and Chairman of Armenian HR Association
The initiator of Regional HR Conference Arpi Karapetyan is the Founder and Managing Partner of Cascade People & Business (www.cascade.am) . Besides she is a Chairman of Armenian HR Association (www.hrclub.am). She is Internationally Certified HR Professional (SPHRi, SCP), Internationally Certified Coach (ECC, ACSTH), trainer and consultant. Arpi has PhD in Social Psychology. With over 20-years of experience in Human Resources Management, Arpi Karapetyan has worked with numerous renowned native and international companies from banking, insurance, production, IT, Telecommunication, retail, NGOs and other sectors.Arpi Karapetyan is also a lecturer at AUA and French University of Armenia. To learn more visit www.arpikarapetyan.com


Website: https://www.arpikarapetyan.com/ , http://cascade.am/en/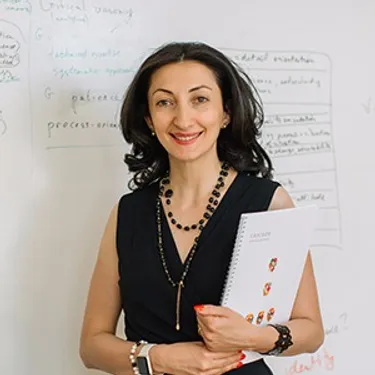 Managing partner of Cascade People & Business
Armine Hayrapetyan has been in the business of human development since 1998, starting with education and healthcare, moving to fashion retail and most recently to human capital development.
Armine is Managing Partner at Cascade People and Business, and helped build the company from early stage. With education in engineering, both industrial and commercial, she used her knowledge to connect strategies, systems and people to implement projects with highly customized solutions.
Apart from designing and delivering professional HR and personal development courses, she has applied human yet systemic approach to executive search and team formation for local and international companies, spreading across entire spectrum of industries from energy and mining to IT.
Armine holds international certifications in HR management and Coaching, and advocates the quality of service both to company clients and the customers of clients.


Website: http://cascade.am/en/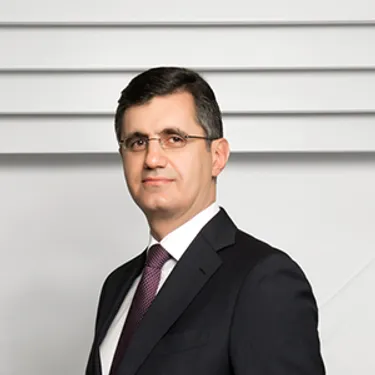 General Manager of VivaCell-MTS
Ralph Yirikian is the General Manager of VivaCell-MTS, Armenia's leading telecommunications operator and one of the top taxpayers, since 2005. The Company employs over 1,200 employees, 29 of which are people with disabilities. Thanks to Yirikian, VivaCell-MTS has become popular not only as a telecommunications operator with the largest market share, or as an innovations leader, but also as a corporate entity managing unprecedentedly large funds to help improve the most vulnerable areas of life in Armenia. Since the first day of its operation, VivaCell-MTS has been making considerable social investments in the implementation of innovative projects in areas such as Information and Communication Technologies, healthcare, culture, science, children & the youth, environmental protection, sports, education, and rural infrastructure.
Ralph Yirikian was the first Armenian CEO to introduce and promote the concept of Corporate Social Responsibility (CSR) as an essential part of corporate behavior.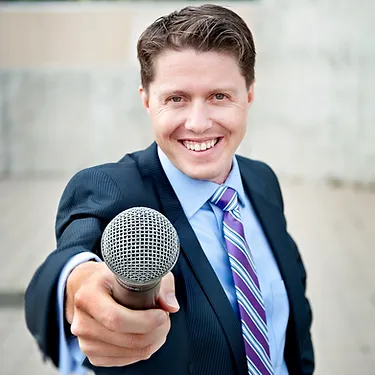 Owner, DJ, MC, Host at Life of the Party Entertainment
Rob Ferre is an entertainer, speaker and game show host from Salt Lake City, Utah, USA. He founded his entertainment company Life of the Party in 2007 after spending 3 years in the family entertainment capital of the world, Orlando Florida. Where he worked for Disney, Universal Studios and Nickelodeon as a game show host and DJ. He has been speaking to and entertaining audiences for over 15 years. Rob is a proud member of the National Speakers Association.

Website: http://robferre.com/ , http://life-of-the-party.com/djs-in-utah/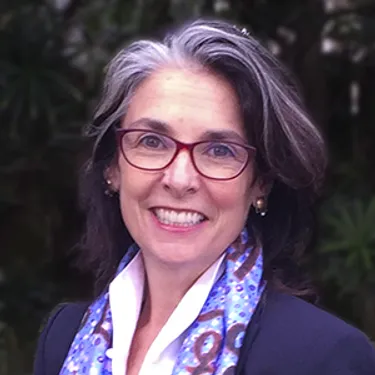 Leadership Development Independent Contractor
In 2017 Susan Simons started two new small businesses. The first is an event space management company while the second is a fashion accessories company. Both of these businesses were born out of a belief that people thrive when they are connected, appreciated and confident.
Outside of her businesses, Ms. Simons facilitates in at least two leadership development academies a year. Since 2011 she has participated in delivering 14 such immersive programs in four regions- Southeast Asia (SEALA), the Middle East (MELA), Central Eurasia (CELA), and the United States (SIBF-LA). Ms. Simons' passion for supporting the growth and development of the individuals, organizations, and communities she works with drives every aspect of her work.
Ms. Simons began her career creating Internet business and marketing strategies for regional and mid-size companies. She then co-founded and was CEO of Clinetic, a pioneering electronic medical technology company. She served in government as an elected member of the Charleston County School Board. She worked in multiple political campaigns, primarily on the fundraising side. In the public sector, Susan has consulted with and served on the boards of numerous nonprofits. Ms. Simons received her BA from Brown University and her MA from The Fletcher School, Tufts University. Ms. Simons is a member of the International Leadership Association and the International Association of Facilitators. She resides in Charleston, SC with her husband, John Hagerty, while their three children have scattered around the globe.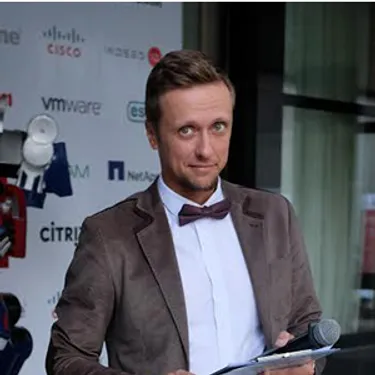 co Founder, Sun House Team LLC
Sergei Dolzhenkov Social psychologist, business consultant, entrepreneur. He began his career in 2003. The main areas of professional interests are: organization of events, organizational consulting and new technologies of loyalty, Participated in the creation of educational systems for TD "Narodny", KD Kulikovsky TM Beeline Kyrgyzstan, Organizer of the International Festival of Advertising and PR Red Jolbors Fest 2012 – 2015, Event Award Central Asia 2016, Actively participates in public life of the city and country. The author and coordinator of the project "Road Triangle" – the formation of a culture of the road, the moderator of the "Forum of Cities", "Mekendeshter", "Urban Data Hackathon", "Enactus KG". Actively applies the gamification in business processes building and brand image. Currently uses 27 methods and approaches, some of which are copyright. During the last three years, it is actively developing in the direction of tourism and has a hostel in the city of Karakol. Plans include the creation of a tourist center with infrastructure for retreats and spectacular cultural events. In an active search for competent partners. A fan of green technology. He dreams to create a zone of perspective development, which will become a laboratory of environmental technologies and a training base for translating values ​​and principles of harmonious development. Sure that the country's natural potential is ideally suited for the implementation of such an international project. Sergey is one of the first events managers of the country, and today he is co-owner of the leading MICE company in Kyrgyzstan in the field of corporate training and inspiration "Sun House Team". The company plans to enter the international market and create unique game products to promote the business goals of customers. Currently he lives in Bishkek with his beloved family.
Website: http://www.sunhouseteam.com/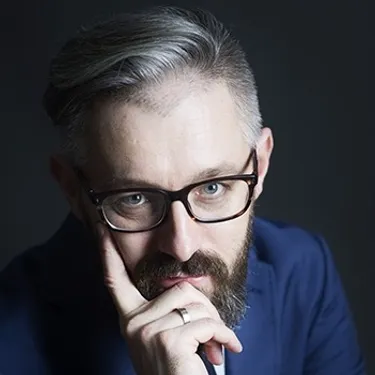 BPI Poland CEO, Change Management Professional, Executive Coach, public speaker
President of BPI Polska, part of an international BPI Group and Prosci Global Affiliate Network, specialized in Change Management. For 15 years has been conducting business transformation projects and advising Management Boards& HR Executives on the implementation of various types of changes in telecom, FMCG, health care, power generation, railway, airline, financial, construction and other industries. He is certified Advanced PROSCI instructor in Change Management. Currently involved in the development of the Global Association of Change Management Professionals (ACMP) in Europe and in Poland. He is also an executive coach (ICC certified) and lecturer of postgraduate& MBA studies on change management, leadership development and strategy implementation. Public speaker on change management at ACMP, PMI and HR events& conferences.


Website: http://bpi-group.pl/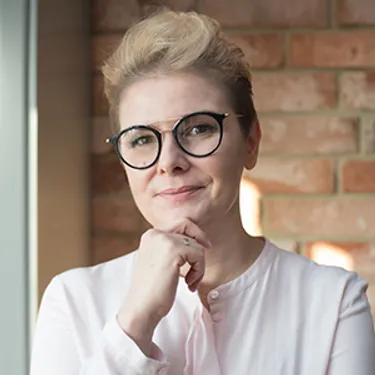 BPI Group Executive Coach, Change Professional
Magdalena is an executive coach, passionate about creating an environment that supports creative development processes, innovation, and change. For 10+ years she has been working extensively within energy, logistics, health care, global shared services, transportation and legal advisory industries, coaching and mentoring top managers in the fields of change management, leadership, team development, social skills, and customer relationship. She occupied top managerial positions in international companies, and now has shifted focus to executive coaching and process-oriented psychology. She is certified in various coaching, training and assessment tools& methods aimed at individuals, teams and organizations, to help them change successfully.

Website: http://bpi-group.pl/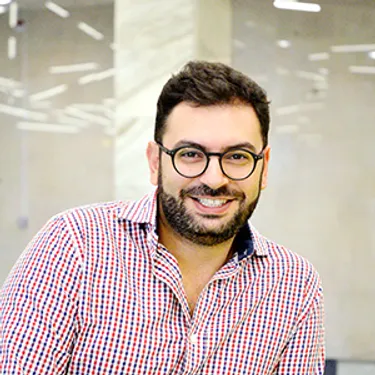 Director of Extension Programs a Strategy professor in the MBA program at AUA
Dr. Sergey Tantushyan is the Director of Extension Programs at the American University of Armenia and a Strategy professor in the MBA program at AUA. Sergey was formerly a Deputy CEO at IDeA Foundation, a major philanthropic organization undertaking headline development projects in Armenia. He has a management consulting background with 15 years of experience in strategic planning, project implementation, and strategy advice, in New York, Yerevan and Moscow.
He has worked at the Central Bank of Armenia and served as a consultant at the OSCE office in Yerevan. Sergey's private sector experience includes management positions in investment and consulting companies in Russia, from 2005 to 2007. Back in Armenia, Sergey headed the Strategy Development Division of AmeriaBank in Yerevan from 2007 to 2009, and thereafter pursued his MBA in Boston. Before returning to Armenia in 2012, he worked as an Economist at The Conference Board in New York.
In addition to his 2011 MBA from Brandeis International Business School in Boston, MA, Sergey also holds an MSc in Economics from Yerevan State University, an MCLS from AUA, and a Doctorate degree in Finance and Economics from the National Academy of Sciences of Armenia. As a 2006 Fulbright Fellow, he pursued studies in Strategic Development and Global Economy at Dickinson College, Pennsylvania. Sergey is also an alumnus of the Eurasia Executive Leadership Program (2008), University of Cambridge, UK. In 2009, he became a Sauvé Scholar and Academic trainee at McGill University, Canada.

Website: https://tantushyan.livejournal.com/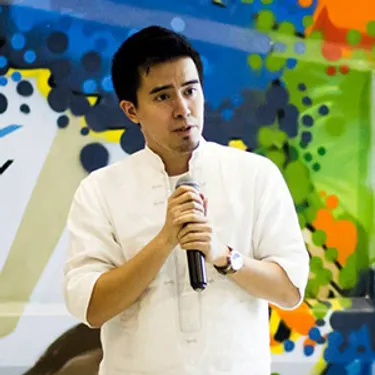 Co-founder at Upstart: Board game
Richard "D-cal" Dacalos is an educator, entrepreneur and coach. As an educator, he has been active in the academe for a little under a decade and spent 4 years in the public school system working to transform educational systems from the inside. As an entrepreneur, he is the creator of Upstart, a board game that allows players to experience what it's like to set up a business. Upstart broke local crowdfunding records in the Philippines and was successfully funded on Kickstarter. He is also a life and business coach with over 7 years of experience. D-cal trains and coaches startups and corporations on leadership, performance, communication, gamification, impact and the future of work.

Website: http://d-cal.com/about/, http://upstartthegame.com/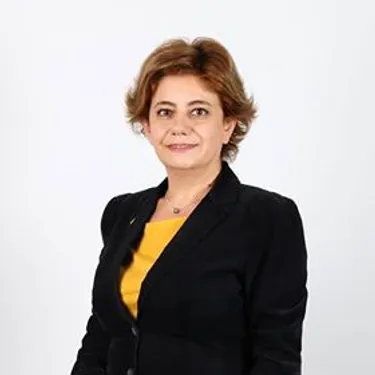 Talent Development Manager at KarTel (Kazakhstan), HR HUB Eurasia
From last year Astghik is working in HR HUB Eurasia based in Kazakhstan. She is leading Talent Development for Eurasian 7 countries (Armenia, Georgia, Kazakhstan, Kyrgyzstan, Tajikistan, Uzbekistan and Ukraine). She is a promoter of Talent Development new concept, and one of her achievements during the past 6 months was launch and promotion of Self-Learning Lab. She is proud that the VEON employees could make investments in their self-development through the best learning platforms in the world – Coursera, Lynda, Web Tutor, Webinar.ru etc.
Previously, Astghik was Head of Beeline University in Armenia and meantime was actively engaged in global projects. One of the achievements in that position was development of global training strategy in cooperation with Ericsson in the framework of Digital BSS project.
Astghik is an active promoter of digital culture in the VEON group level – she has launched the Digiclubs in Beeline Armenia. She is one of the agile evangelists and is spreading Agile Philosophy through Eurasian Companies.
Working with diverse teams, cross cultural awareness and leading virtual teams are the competencies that Astghik is continuously developing and sharpening as a competitive advantage.
How is Astghik describing herself:
"My life motto is – the only person you should compare
yourself to, is who you were yesterday. I'm doing everything to be the best and updated version of myself."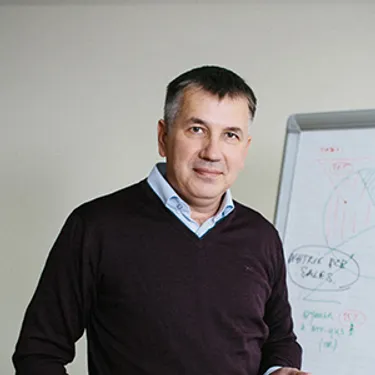 Expert in creative management, Business-trainer, Business-Consultant
Andrey Donskih is an expert in the field of creative management, developer of gaming solutions for business, author of books and business consultant at Donskih Consulting Group.
He is specialist in the field of facilitation and moderation of strategic sessions and brainstorming, including using the "MatriX" business game – author's training on creative leadership, management, and motivation of personnel, team building and mentoring; management, HR and strategic consulting as well.
Andrey studied at Perm Higher Command and Engineering School of Strategic Missile Forces (1985-1990). Passed more than 50 courses on the improvement of professional skills.
He is an author of a popular educational business game for managers, speech simulator for sales managers and business game for the development of entrepreneurial thinking of schoolchildren and students.
His latest products: an educational video course "Techniques of working with objections and customer complaints" (June 2014), e-book "Mentoring: effective technologies for employee development" (December 2014), the book "MatriX. From the game to the consulting project" (Ridero Publishing House, April 2016) and the book "MatriX. How to develop and implement a system of mentoring" (Ridero Publishing House, August 2016).

Website: http://donskih.ru/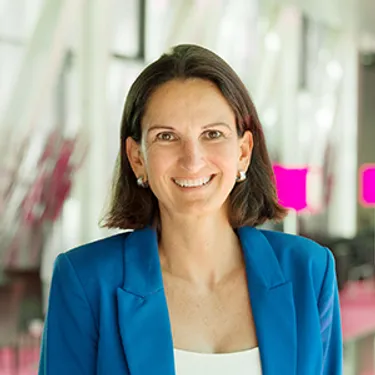 Head of Human Resources & Technical Support at Austrian Federal Computing Centre
Karin Kschwendt is Head of Human Resources & Technical Support at Austrian Federal Computing Centre (BRZ). BRZ is the leading technology partner of the Austrian public sector, using state-of-the-art technology for the development of cutting-edge solutions in the field of administration. She joined BRZ in June 2018 and is located in Vienna, Austria.
Between 1986-2000 she was a professional tennis player. In 1996, Karin had a career high of Nr. 37 in the world in singles and a career high of nr. 45 in the world in doubles.
After her sports career Karin studied Business Administration at the University of Applied Sciences in Wiener Neustadt (Austria) with specialization in Organizational Development and Human Resources Consultancy. Since 2005 she held different Senior Manager positions in Human Resources in international corporations as well as in small and medium-sized companies like HR Director Renewable at ContourGlobal and HR Director at T-Mobile Austria.

Website: https://www.xing.com/profile/Karin_Kschwendt , https://www.brz.gv.at/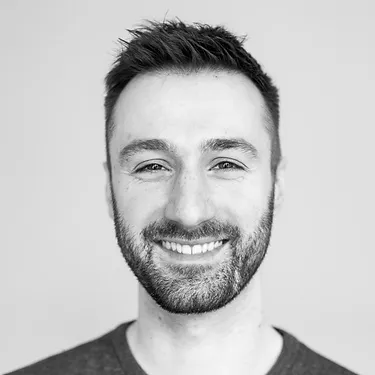 Designer, Lecturer, Communication Consultant
Marc Kloubert is a communications designer, frontend developer and communications consultant based in Cologne, Germany. He has worked for clients such as Columbia University New York, the London School of Economics and Rational Games Inc. Marc is co-founder of g31 (https://g31design.com), a design company developing brands, campaigns, websites, print and digital media for international clients across the business, education, and cultural sectors.
Since 2015, Marc has been a lecturer at the design faculty of the University of Applied Sciences Duesseldorf. There he teaches web design, user experience design and frontend development at the intersection of design and technology. He's focussing on learning applications and information architecture.
More about him on Website: http://marckloubert.com/

Website: http://marckloubert.com/ , https://g31design.com/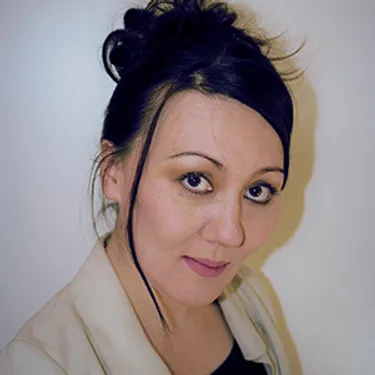 Head of PR and Brand Management at Innova Game Publishing
An upside down Head of PR and Brand Management at Innova Game Publishing. Gauhar started her career at the age of 17 at a Representation of a multinational Japanese trading company, because there were free internet access at the office. After 5 years of teaching at The British College of Banking and Finance she radically changed the direction and plunged into game development industry. Being a PR coordinator of Ice-pick Lodge indie studio she took part in the development of such projects as Pathologic and The Void. As a brand manager of Noviy Disk company she published games under such popular licenses as Night watch, Startrek and others. And the most important question still is: how to build an efficient team and arrange processes to stop being under pressure and to find time for family and hobbies.

Website: https://inn.ru/en/about
Consultant and Trainer on Communications, General Director at "SunHouse Team" corporate events agency (exists 5 years in the Central Asia market), CEO at "New Media Institute"
Sergey Makarov has more than 9 years of experience in media, communications and public relations. Main competencies: marketing strategies, business planning, market research, defining target markets, events, social media, branding. Holds trainings on business models launching in the field of hospitality
and tourism Management. Since 2015 heads a company on trainings and event management with 10 years of experience in organizing marketing, corporate, business, tourism events and MICE across Central Asia.
Key Clients: Ak-Sai Travel, Bayer, Baker Tilly Bishkek, Beeline, Companion Bank, Kulikovsky Company, UNDP, KazMinerals Bozymchak, World bank and etc

Website: http://www.sunhouseteam.com/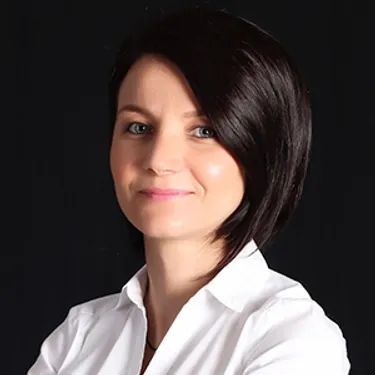 Co-founder and managing partner at Evinaux
Luiza Ries Yengibaryan is the co-founder and managing partner at Evinaux. Mrs. Ries Yengibaryan is Erickson certified professional coach with over 10+ years of experience in coaching, customer experience, and service management, direct and indirect sales with proven track of record in designing and implementing quality management systems, expertise in leading quality assurance and control.
Since 2015 she has worked as an Independent Consultant/Coach, internationally and in Armenia: designing, building up and executing inside & outside sales concepts, methodologies, and tools, creating space for the continuous development of the company's business units by accompanying supervisors and managers as a coach for long-term results. Luiza has worked in multinational companies, in various industries such as telecommunication, business process outsourcing (BPO), manufacturing, consumer- micro-financing, etc.
Co-founder and managing partner at Evinaux
Ashot Sargsyan is the co-founder and managing partner at Evinaux.
He's a speaker, trainer, mentor, coach, more specifically, certified Instructional designer, learning & development professional with 9+ years of fruitful training management, sales & customer service and human resource management expertise in leading multinational telecommunication companies.
Mr. Sargsyan is the author of 45+training and development projects in the fields of management, leadership, persuasion, sales & customer service and more.
He is an enthusiastic T&D and adult learning professional with the following spectrum of activities: performance improvement, instructional design, training delivery, learning technologies, evaluating learning impact, managing learning programs, integrated talent management, coaching, knowledge management.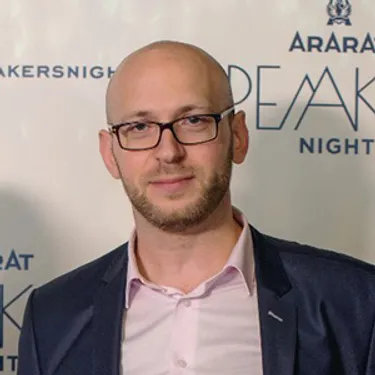 HR Director in Yerevan Brandy Company
Andrey Panov has graduated from Moscow State University after Lomonosov, with the specialization in Psychology. He received additional education in international HR management at the Kingston Business School. Andrey is in the sphere of HR for more than 14 years, and has worked around 12 years in large international companies, such as Kelly Services, Quintiles & Pernod Ricard. For the last 10 years he has been responsible for various HR issues in the countries of the European and Middle East regions. Since July 1, 2017 he is occupying the position of HR Director in Yerevan Brandy Company part of the well-known Pernod Ricard Group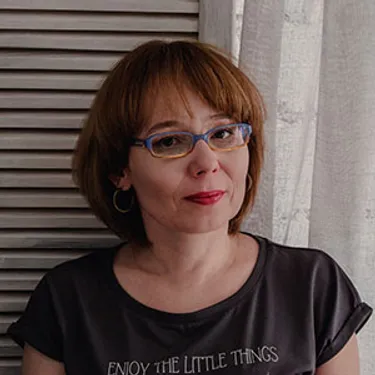 Gamification expert, business-trainer, co-founder of "Orange-Apple"
Gulmira Pushkareva is the director of game solutions studio "Orange-Apple", which specializes in corporate education, business game creation and business gamification in Kazakhstan.
She learned the principles of game development in Moscow School of Management Skolkovo and the seminars of Russia Game Development Guild. Since 2015 she successfully implemented 8 business gamification projects, all lasting from 2 to 12 months. In 2016 two of the mentioned projects became the awardees of the third annual award for non-monetary motivation "Motivation Awards". Gulmira Pushkareva regularly holds open and corporate LEGO-sessions, management skills and creative thinking development trainings as well as trainings on Dragon Dreaming projects management.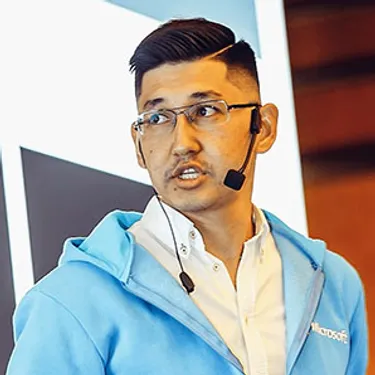 Microsoft 365 Product Marketing Manager for CEE Multicountry, Microsoft
Kazakhstan, 24 countries representative
Ulan Karazhigitov holds a position of product marketing manager, responsible for selling and promoting services for effective teamwork, security and intelligent communications. The department promotes cloud solution called Microsoft 365, which includes Office 365, Windows 10 and cybersecurity services. The unit in which Ulan works is responsible for business in 24 countries of Central and Eastern Europe, including Armenia.
Professional experience includes entrepreneurship in retail, consulting and investments fields. In addition to that Ulan worked in with various web and IT companies in Kazakhstan and Russia.
Karazhigitov received his MBA in Nazarbayev University (in strategic collaboration with Duke University's Fuqua School of Business).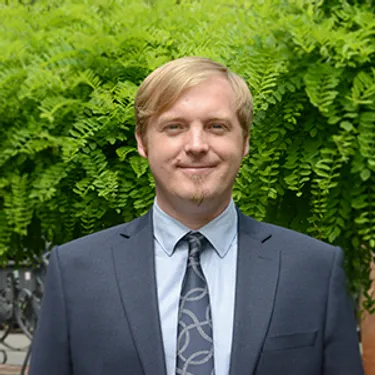 GIZ "Private Sector Development and Technical Vocational Education and Training South Caucasus" (PSD TVET Programme).
Wilhelm Hugo is the Team Leader Armenia of the "Private Sector Development and Technical Vocational Education and Training South Caucasus" (#GIZPSDTVET) programme implemented by @GIZ on behalf of the German government.
Wilhelm Hugo holds master degrees both in the field of Social Sciences/Political Sciences and in the field of Law. He has 13 years of professional experience in the field of education and training.
Previous professional background includes a long-term assignment as Team Leader of the program "Open Regional Fund for Promoting Training and Employment for Young People" in Tunisia. Afterwards he worked for GIZ in Bonn as an advisor to the Federal Ministry for Economic Cooperation and Development (BMZ) on issues of Vocational Education and Training.
The PSD TVET programme is operating in the three countries of the South Caucasus to improve the conditions for sustainable economic development and inclusive growth. It focuses on involving the private sector in vocational training and its cooperation with education/training providers. In Armenia, the programme particularly supports wine, tourism and IT/precision engineering sectors.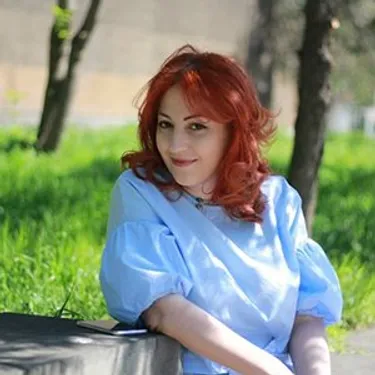 Growth and organizational development expert
Sona Hovhannisyan is growth and organizational development expert with more than 15 years experience in business and non-profit sectors. She is a certified business trainer and coach, author and co-author of unique development programs and trainings. She has also been a speaker during the first TEDxYerevan event. Sona is the Head of Beeline University Armenia and is co-founder and program director of grow edutainment and brainee companies.
During HR conference Sona will be presenting Brainee connected learning platform.
Brainee is a single knowledge management platform that maps out the diverse expertise we possess and connects us to those who are looking for it.
Based on its AI solutions, Brainee analyzes and keeps track of your knowledge data and learning interactions, promotes your know-how and advises you on how to stand out and grow as an expert in certain field.
Brainee generates data on knowledge needs, offers and trends to assist organizations to facilitate self-learning culture and manage potential of their teams.